Neighbor to Neighbor, an Interfaith Community Project, helps seniors remain independent in their own homes by providing services to keep them engaged, mobile & cared for.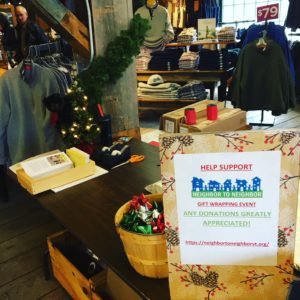 Over the holidays, Neighbor to Neighbor offered gift wrapping at both the Orvis Outlet and the flagship store next door. We had a good time, got the word out, and raised a little bit of money!
Mission Statement: To assist our neighbors to live independently by providing no-cost, volunteer services that help to nurture relationships.
Neighbor to Neighbor / Box 226 / Manchester Center VT /05255